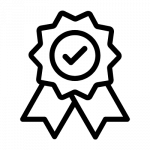 Quality declaration
Holms delivers on the right time and the right product. Every time.
The quality policy applies both internally and externally. The quality policy is required to be present on the home page and made available for anyone to read.
Quality management system
Holms Attachments quality management system is guided by vision, mission and strategic decisions.
Holms design, produce, markets and delivers products for road maintenance like snow clearing and sweepers.
Basic guidelines
To ensure operational excellence and quality in everything we do, our quality management system are based on risk analysis,
the use of processes and documentation of deviations,
förbättringsarbete och handlingsplaner,
and decisions that are based on facts.
Analysing risk
Risk analysis is regularly revised. This occurs every year when the strategic work is planned.
Quality goals
The management team is responsible to determine the goals for the quality work.
The management team follows up the work each month to see if the goals are being met and still valid.
Implementation
The management team is responsible for the implementation and continious work of the Holms quality management system.
The work to maintain and reach a high quality standard in everything we do is a continious and systematic effort.
November 2021