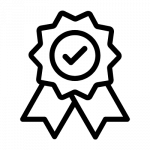 Quality declaration
Holms delivers on the right time and the right product. Every time.
Kvalitetspolicyn gäller internt såväl som externt. Kvalitetspolicyn ska vara tillgänglig för företagets intressenter, vilket uppfylls genom att den går att läsa på företagets hemsida. Policyn implementeras, tillämpas och följs upp genom företagets Kvalitetsledningssystem. 
Quality management system
Omfattning
Holms Attachments quality management system is guided by vision, mission and strategic decisions.
Holms design, produce, markets and delivers products for road maintenance like snow clearing and sweepers.
Basic guidelines
To ensure operational excellence and quality in everything we do, our quality management system are based on risk analysis,
the use of processes and documentation of deviations,
förbättringsarbete och handlingsplaner,
att beslut fattas på fakta och orsaksanalyser. Ledningssystemet utvecklas och anpassas kontinuerligt för att vara en hjälp till verksamheten både kortsiktigt och långsiktigt. 
Analysing risk
Risk analysis is regularly revised. This occurs every year when the strategic work is planned.
Quality goals
The management team is responsible to determine the goals for the quality work.
The management team follows up the work each month to see if the goals are being met and still valid.
Implementation
The management team is responsible for the implementation and continious work of the Holms quality management system.
Genomförandet sker genom ett kontinuerligt och systematiskt arbete med:
Gott ledarskap kombinerat med processtyrning.
Att erforderligt stöd, resurser och kompetens finns i organisationen.
Internrevisioner: alla element i ISO9001 ska täckas under 3-års period.
Avvikelsehantering – från slutkunder och återförsäljare, i egna processer och till leverantörer. 
Ständiga förbättringar i samverkar med kunder, personal och leverantörer. 
Handlingsplaner / åtgärder ska vara tidsatta och ha en ansvarig.
Kundfokus upprätthålls genom att LG kontinuerligt informeras om kundärenden. 
April 2022